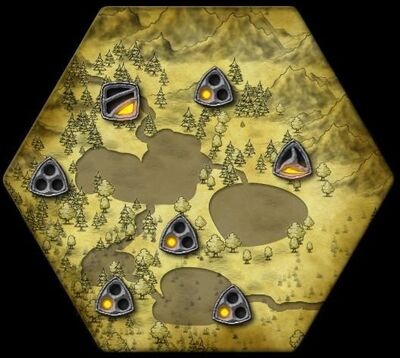 Hextile E is unlocked by beating
Field F4
in Gemcraft Chapter 2: Chasing Shadows. After Field E6 is completed, Hextiles B and A will unlock, and also a trait. There is a
Mysterious Compass
in this hextile. There is a tome chamber located at
Field E4
if completed unlocks the Poison skill. There are seven
Achievements
in this hextile. There are seven fields in this hextile. The field you will get first is field F1.
Hextile E Level overview
Edit
Additional Level info
Edit
Unlocks E2 and E3 if completed.
Buildings: Monster nest 800hp 40 armor; 2x Abandoned Dwelling (bomb grades 2 and 3 to destroy), barrel (2 bolts to open). Mysterious Compass
tome chamber location - Acquires Poison Skill if opened.
Unlocks E6 if completed.
wizard tower location - Acquires Hextiles A and B if unlocked the wizard locks and beaten the level and the beacon storm trait.
Unlocks B1 if completed.
Achievements
Edit
Field E1: Don't have any gem higher than grade 1 at field E1 ; Beat 45 waves at field E1.
Field E2: Don't have any gem higher than grade 4 at field E2 on Glaring difficulty.
Field E3: Don't spend any points on skills at field E3 on Glaring difficulty.
Field E4: Open the tome chamber at field E4 before wave 7 starts.
Field E6: Create a grade 6 pure mana leeching gem at field E6 before wave 2 starts.
Field E7: Don't have any gem whigher than grade 2 at field E7.
Ad blocker interference detected!
Wikia is a free-to-use site that makes money from advertising. We have a modified experience for viewers using ad blockers

Wikia is not accessible if you've made further modifications. Remove the custom ad blocker rule(s) and the page will load as expected.